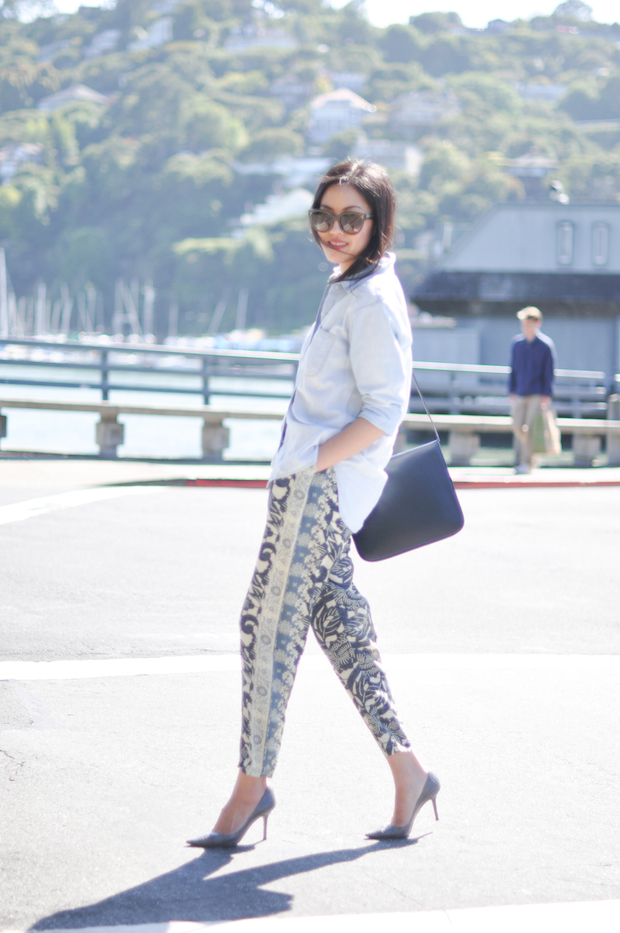 The relaxed, coastal living of Tiburon has clearly influenced my style choices of late. Such a change from San Francisco (and yet I'm glad to say I still have reasons to come into the city a few times a week!).
Lucia is now 10 months old – I can't believe how fast it has gone by! She's crawling, furniture surfing (much to our dismay), being an excellent helper by throwing her diapers into the trashcan, high-fiving… the list goes on! I'm just trying to savor each and every moment, although with all the hustle and bustle of work and daily tasks it's easier said than done. Most importantly, I'm trying my best to put my phone away on the counter when it's playtime – definitely a work in progress!
Thank you so much for stopping by – happy Thursday!
***
Top – Madewell (here – I recommend sizing down, wearing an XS and it's still very roomy)
Pants – thanks to Greylin (on sale! here)
Purse – Celine (similar style here under $250)
Bracelet – Anndra Neen
Heels – Jimmy Choo (here)
Sunglasses – Celine
Lips – Estee Lauder "Rebellious Rose" (here)