Oh Baby!
September 28, 2018
Sponsored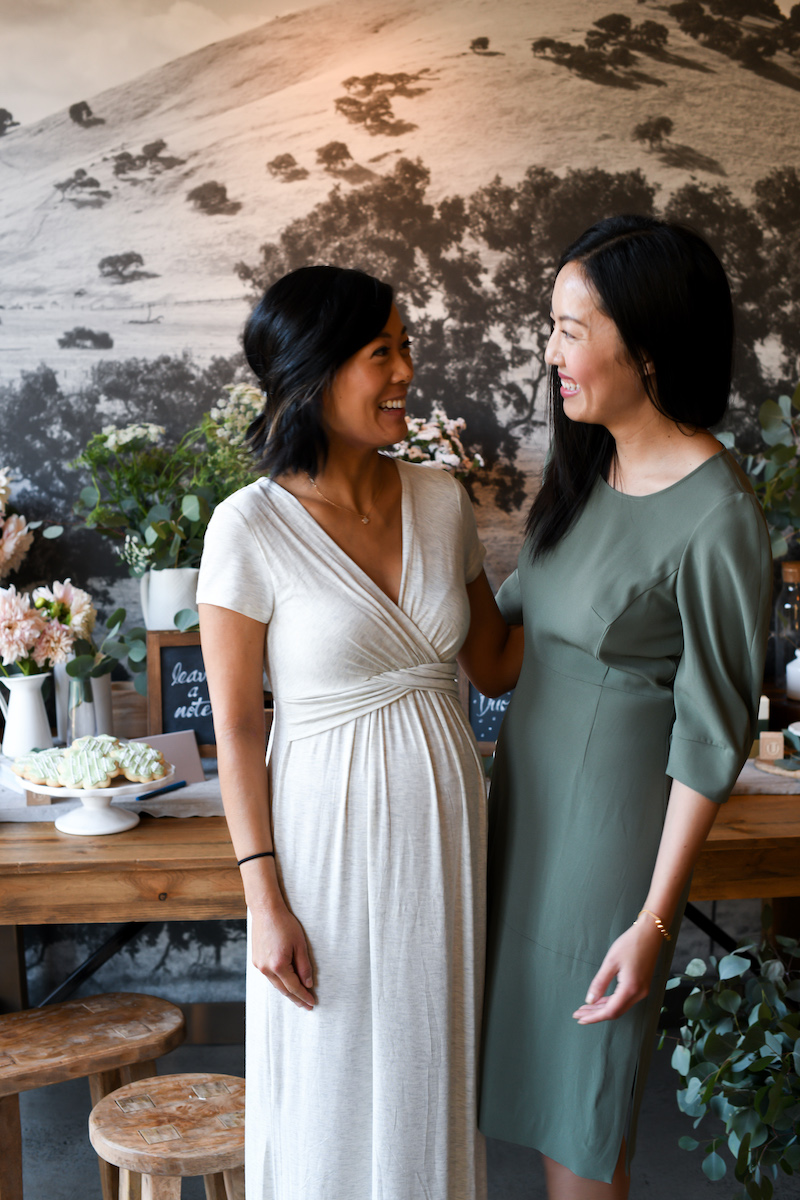 When my best friend (since 7th grade!) Kristine confided in me the biggest, best, happiest secret ever, my heart literally jumped for joy. My legs jumped too, and some crazy yelps and woohoos were heard (was that me?) (yes, that was definitely me). And I knew right then and there that I wanted to throw her a baby shower to celebrate.
Fast forward a few months, a date was set and my job was clear: host my very first party for friends and family to help shower the soon-to-be-parents with love. I can do it, right? Well, trust me when I say there were moments of fear and intimidation (a lack of experience tends to bring on a lack of confidence), a few stressful moments (tick tock, the party is about to start!), and finally… the biggest, happiest sigh of relief upon seeing my best friend's face light up as she (and her cute little bump) walked into the space.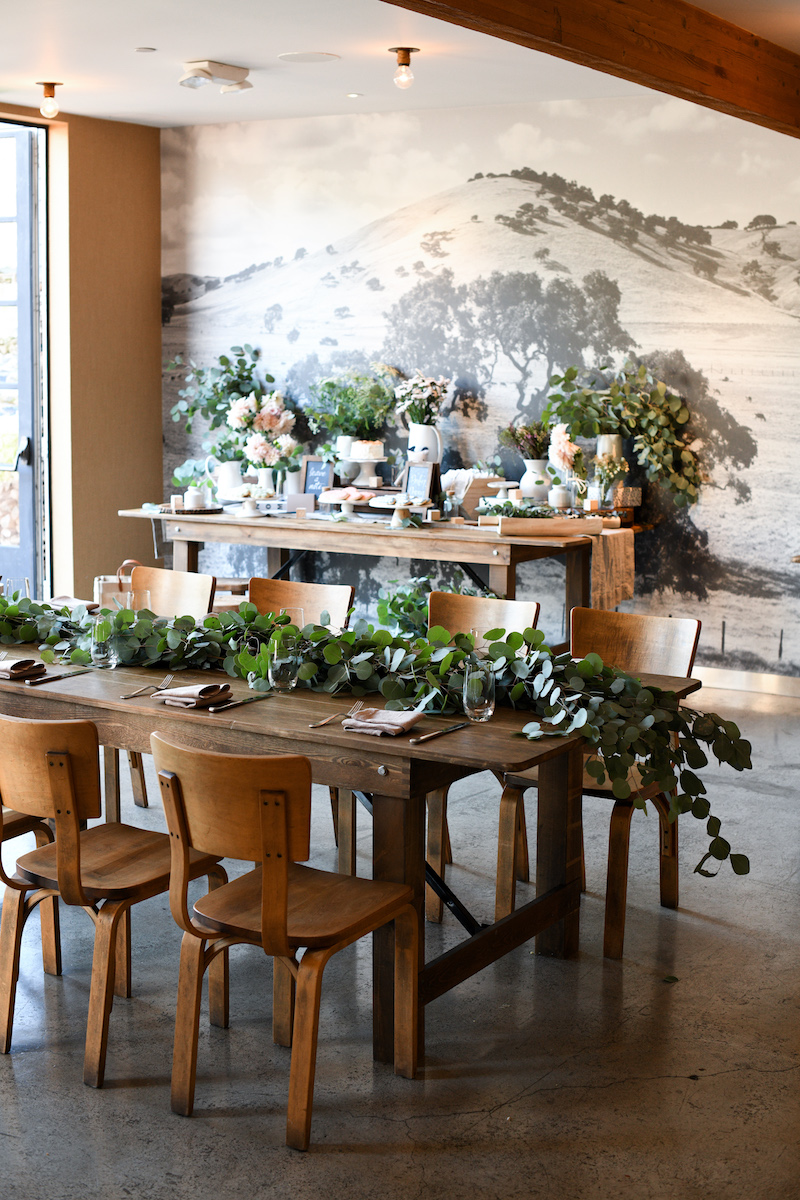 Following the party planning and execution, I developed 5 key tips and tricks for pulling off a baby celebration for your loved one. If you have a baby shower, sprinkle or sip-and-see coming up, use follow these guidelines and you'll be sure to throw a memorable and meaningful event:
1. Don't reinvent the wheel. When it comes to design and styling, I'm more of a "I know it when I see it," i.e. "not a creative genius." I decided on the space first, then looked for inspiration photos and themes that would suit the space. It didn't hurt that my favorite Marin restaurant, Farmshop, has a beautiful private event space, which I'd always loved and what helped drive my décor for the party. I also relied heavily on inspiration that I sourced from websites (my go-to was Pinterest), magazines and even the Huggies Made by You diaper collection design that I gifted my friend. It may sound a bit funny, but I promise Huggies Made by You, Huggies first-ever personalized diapers, have the most adorable and fashionable themes and patterns that make the perfect party design inspiration! I chose the Pattern Party collection, which allowed my inspiration board to consist of muted colors (neutrals, surprised?!), eucalyptus leaves for texture, and a little bit of whimsy thanks to some mixing-and-matching of minimalistic patterns.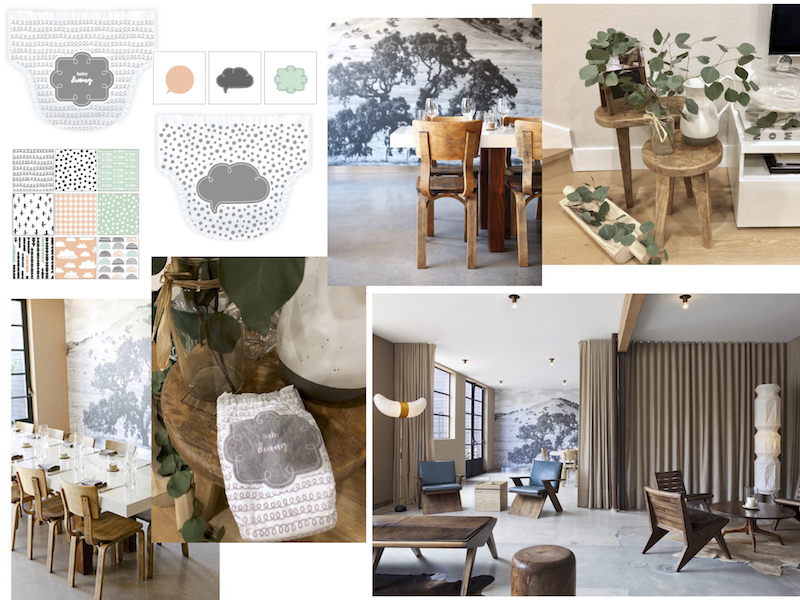 2. DIY doesn't mean you have to do it ALL yourself. Keeping budgets in mind I knew that a big part of the party would need to be DIY. In booking at Farmshop, I had outsourced the food, beverages and service (that's where I wanted to splurge!). I'm no "kitchen genius" either, so knowing the food would be delicious without effort on my part was key. Then I enlisted the help of a friend who had experience with styling and designing parties, and I immediately felt a surge of confidence. She was a HUGE help with advice during planning, set-up on the morning of the event and helped me source custom cookies for the table! I'm so grateful!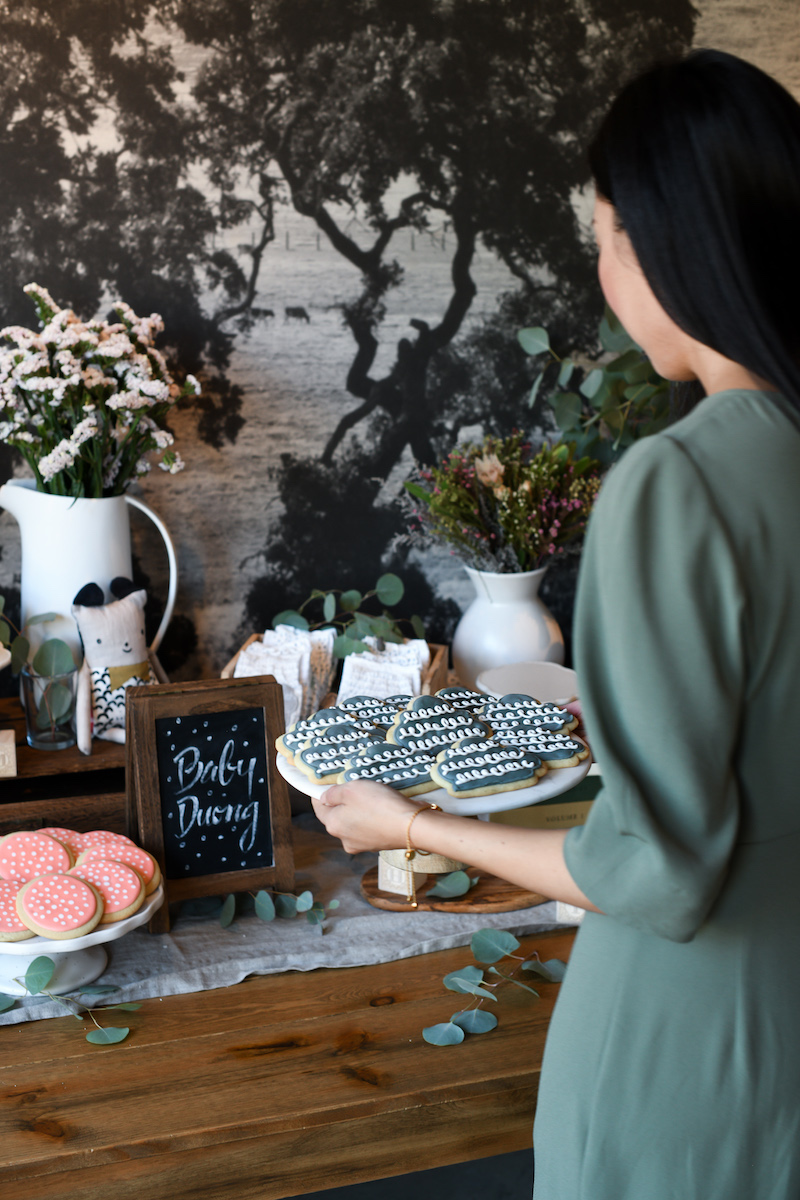 3. Focus on one big photo-ready "moment." I wanted to have one beautiful tablescape and focused my sourcing on making that the backdrop for all of our photos with friends and family. It also helped planning feel less intimidating – just one table can't be too hard right? There are two key things for a tablescape that I learned you need to have: (1) Risers – items that would give vases and other decor varying heights to offer the texture, depth and visual interest that make a tablescape pop. Risers that I sourced were coffee table books, wooden crates and trays. And (2) vary the materials – avoid being too matchy-matchy! I went for glass vases, textured glass vases, ceramic, light wood, dark wood, etc. I added wooden stools in front of the table for additional depth too.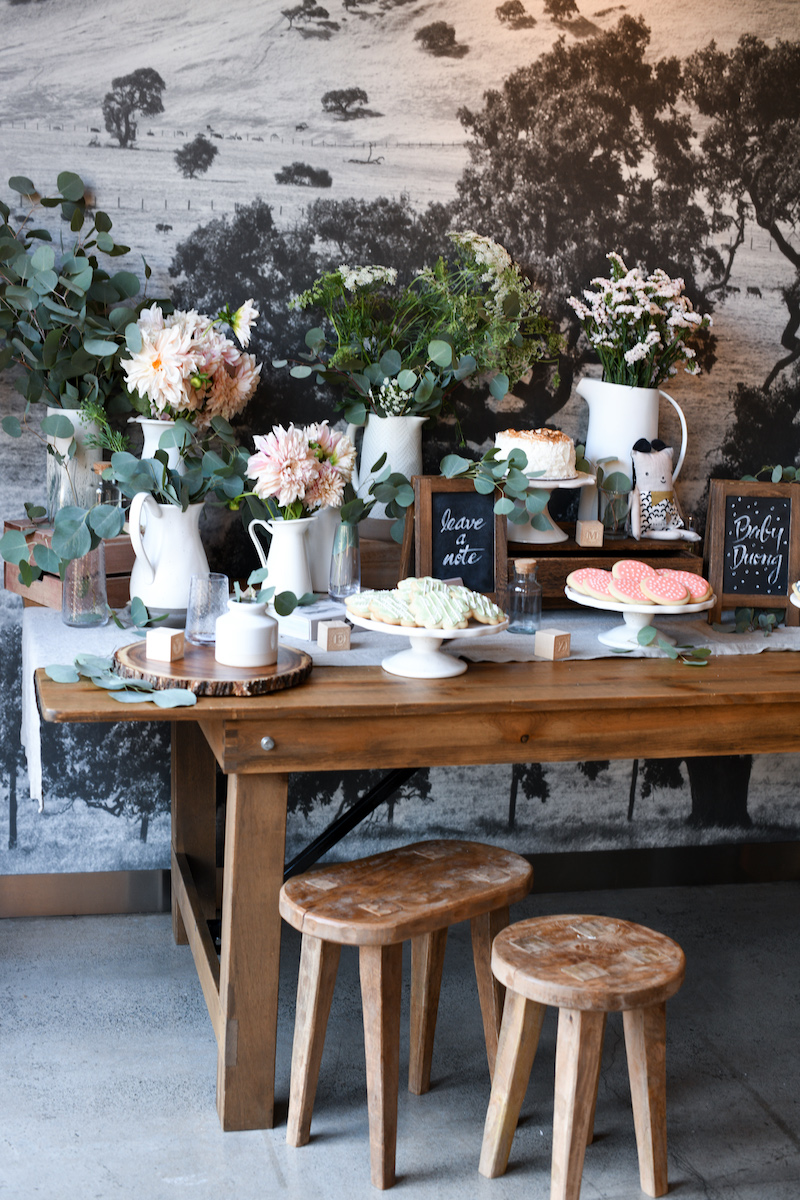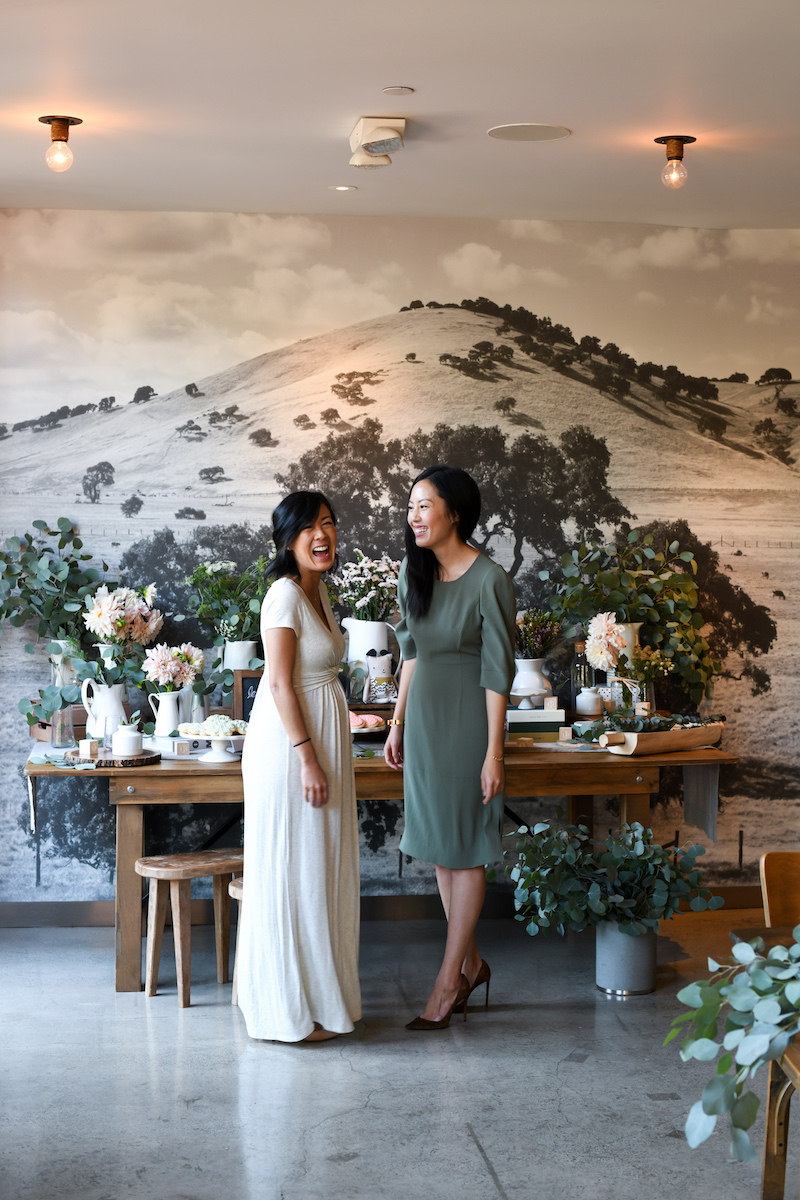 4. Find places to save. As I mentioned above, I splurged on the food and venue, so I was really motivated to find savings elsewhere to help me stay within budget. Flowers seemed like the perfect place to start. I made my way to the SF Flower Mart during public hours and shopped around for silver dollar eucalyptus. I love these leaves – they feel modern and luxe, but they don't break the bank! I placed a big order in advance (peace of mind!), and took home a few bunches that day for some experimenting at home – a test-run of sorts. For sourcing all of the items on the tables, I shopped at places like Ikea, Target (clearance vases!), and Amazon (baby blocks!). I also put the custom Huggies Made by You diapers inside the trays as pieces of art themselves, and they created a stunning baby-themed center piece (more on that next…). But best of all, I sourced from my own home: vases, books, trays, anything I could find!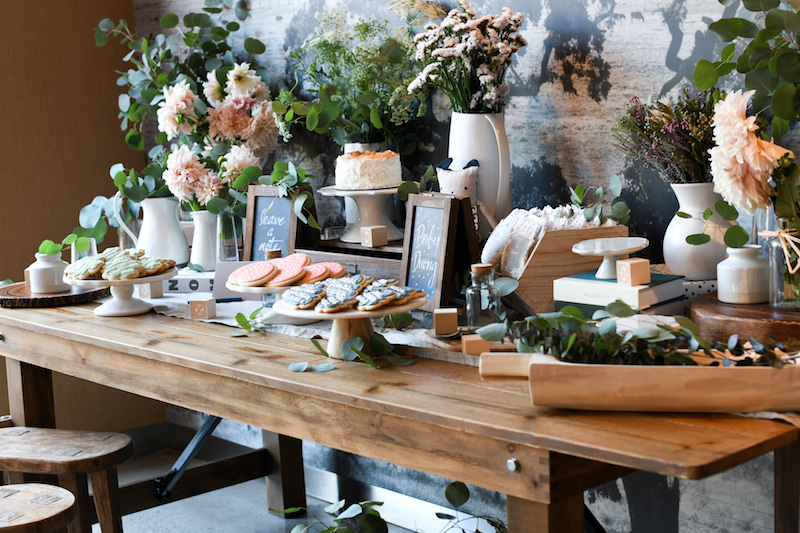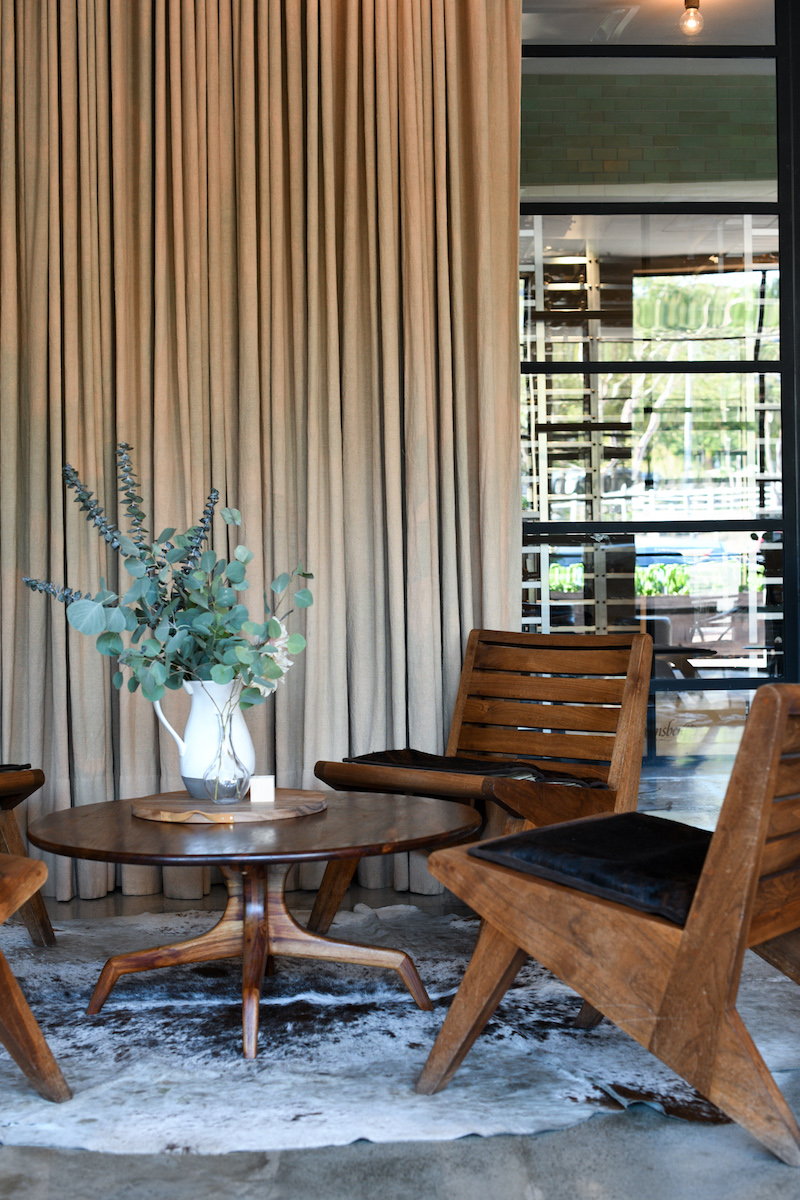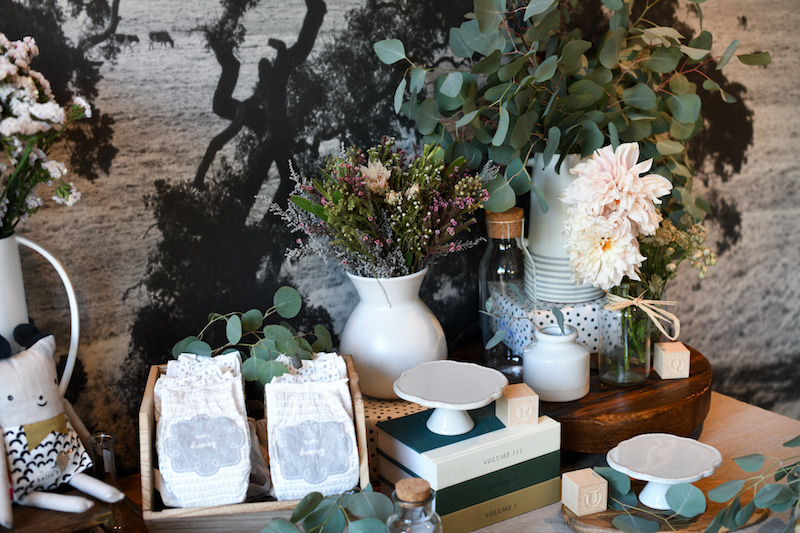 5. Make it personal for the parents-to-be. I was scrambling around to find ways to make the tablescape as beautiful as possible, but the most important part of designing it was finding a way to make it personal and make it special for their family. I had partnered with Huggies to celebrate the launch of Huggies Made by You at the start of the summer, and I couldn't wait to finally create a box of personalized diapers for Baby Duong. The Pattern Party collection was a perfect fit for the baby shower theme (I love the hand-drawn polka dots and darling little squiggles…), and the bonus was it doubled as décor on the tablescape. It was the perfect way to make the space and the present I gave them completely theirs.
Before guests arrived, I surprised her with the gift (she loved it!) and then showed her around the space. The bubbly we would all be drinking would be from the vineyard that Kristine, her husband and I had driven to for a special tasting and tour a year earlier. For the non-alcoholic option we served Le-MAMA-made, a hibiscus lemonade. The stuffed animal on the table was also a personal gift: a "little bear" for the nickname they had already given the baby as soon as they found out they were pregnant. The wooden crate filled personalized Baby Duong Huggies Made by You diapers was truly that perfect final personal touch. They absolutely adored it.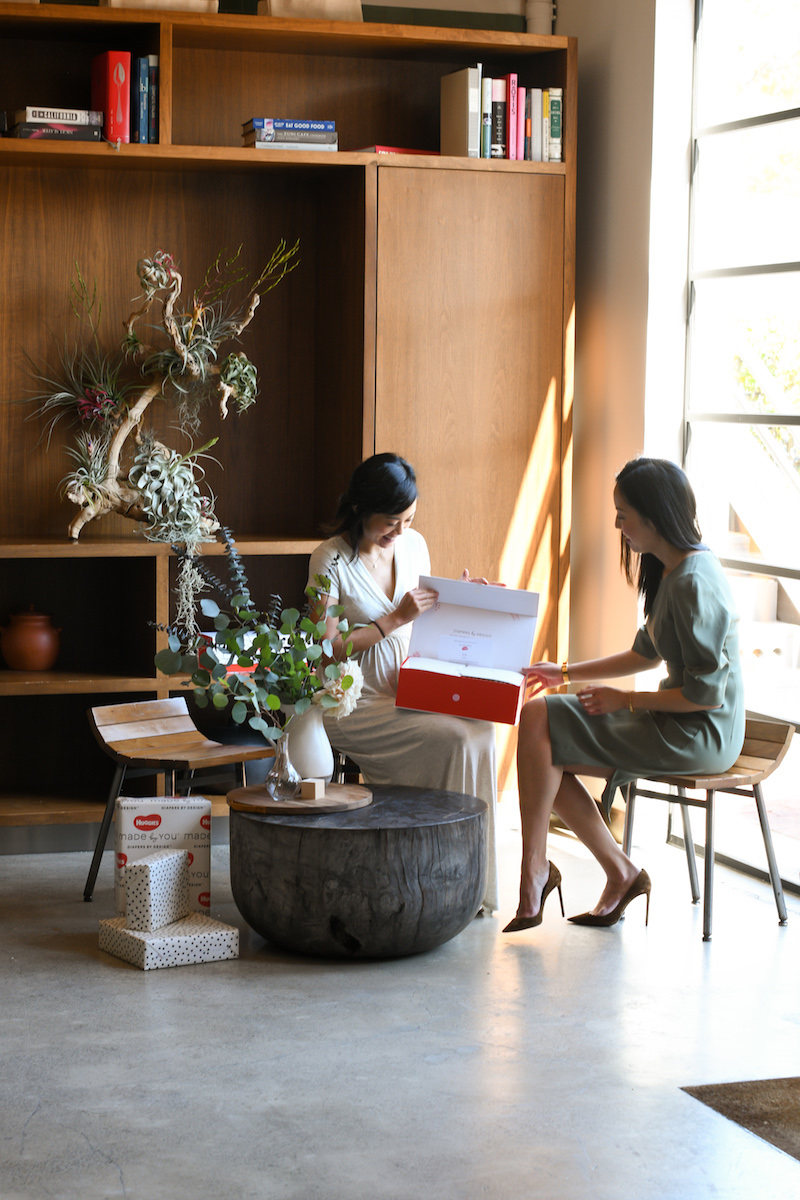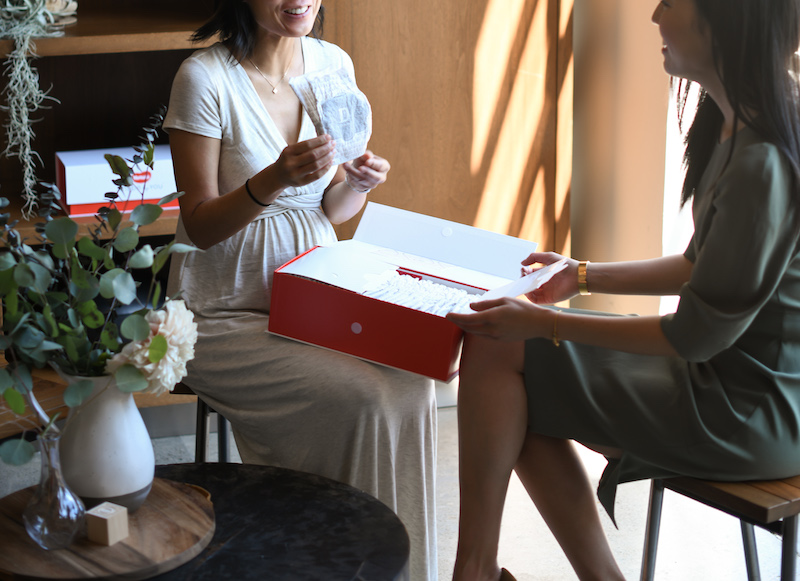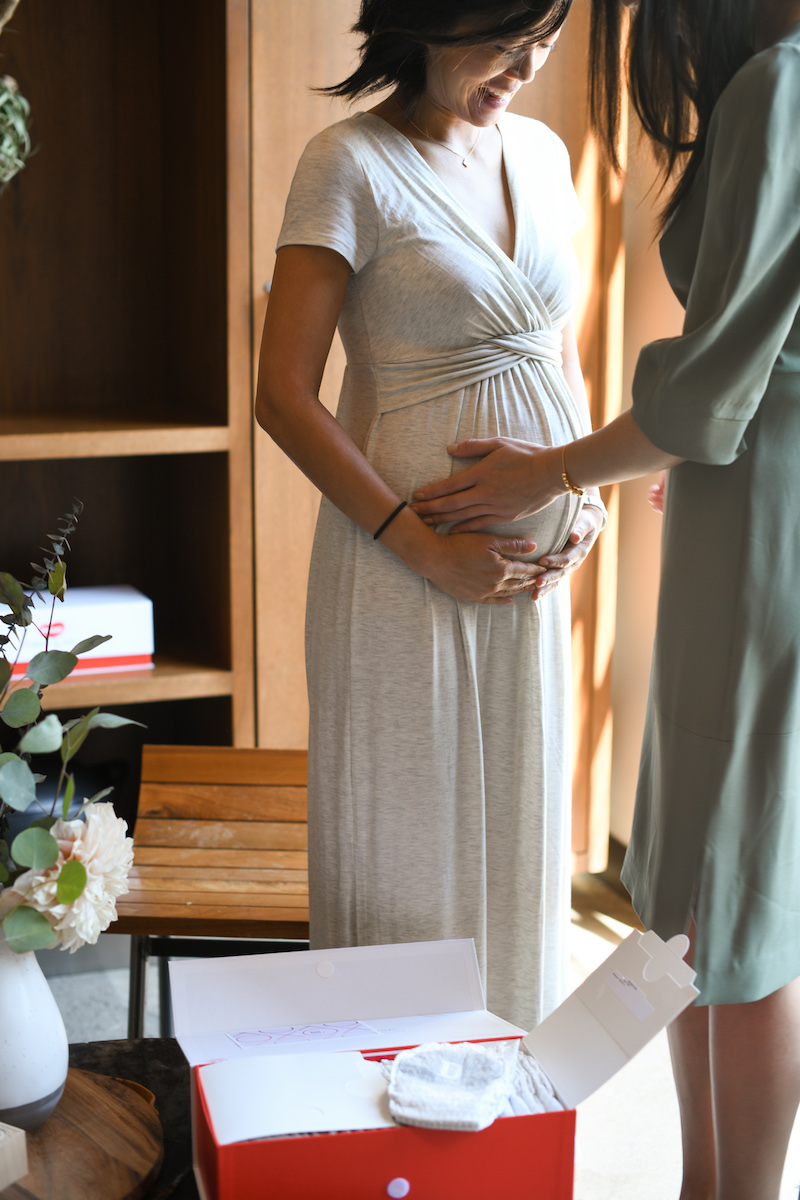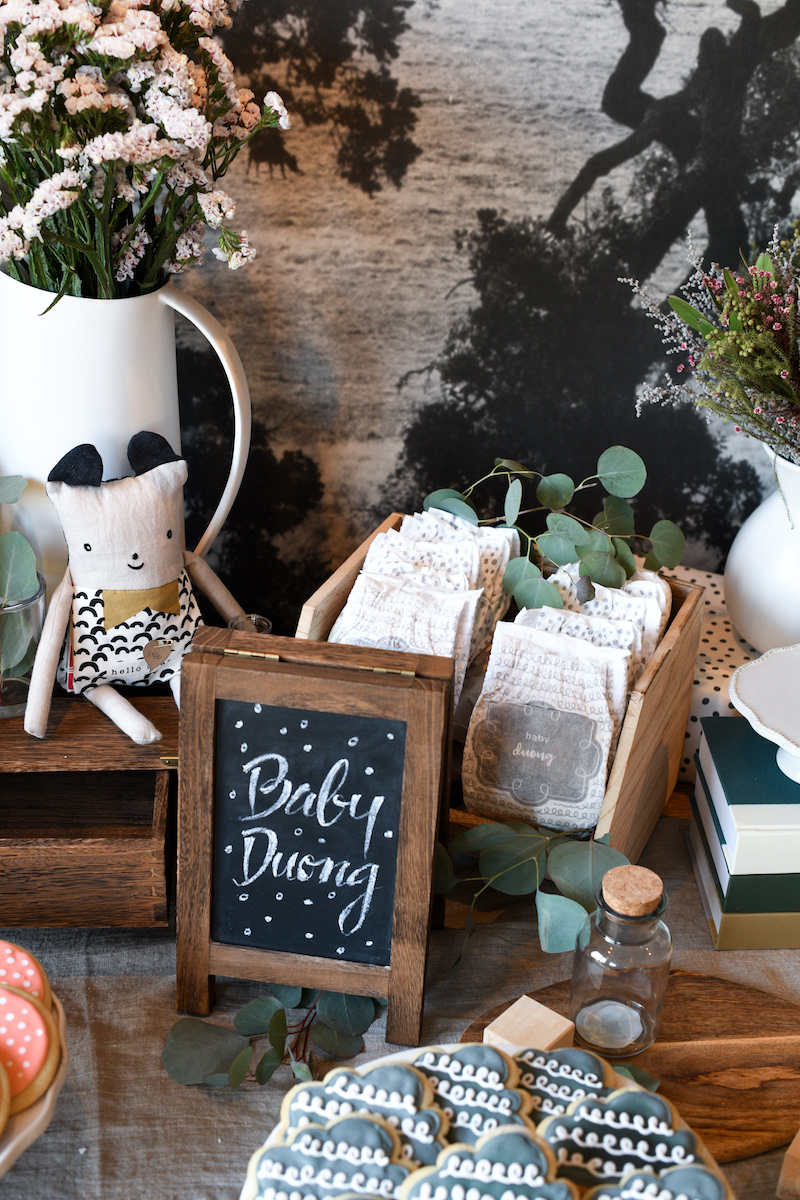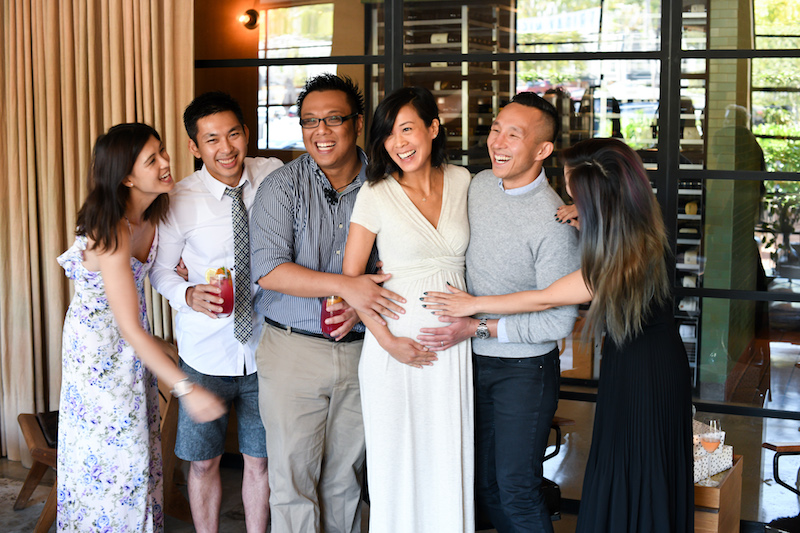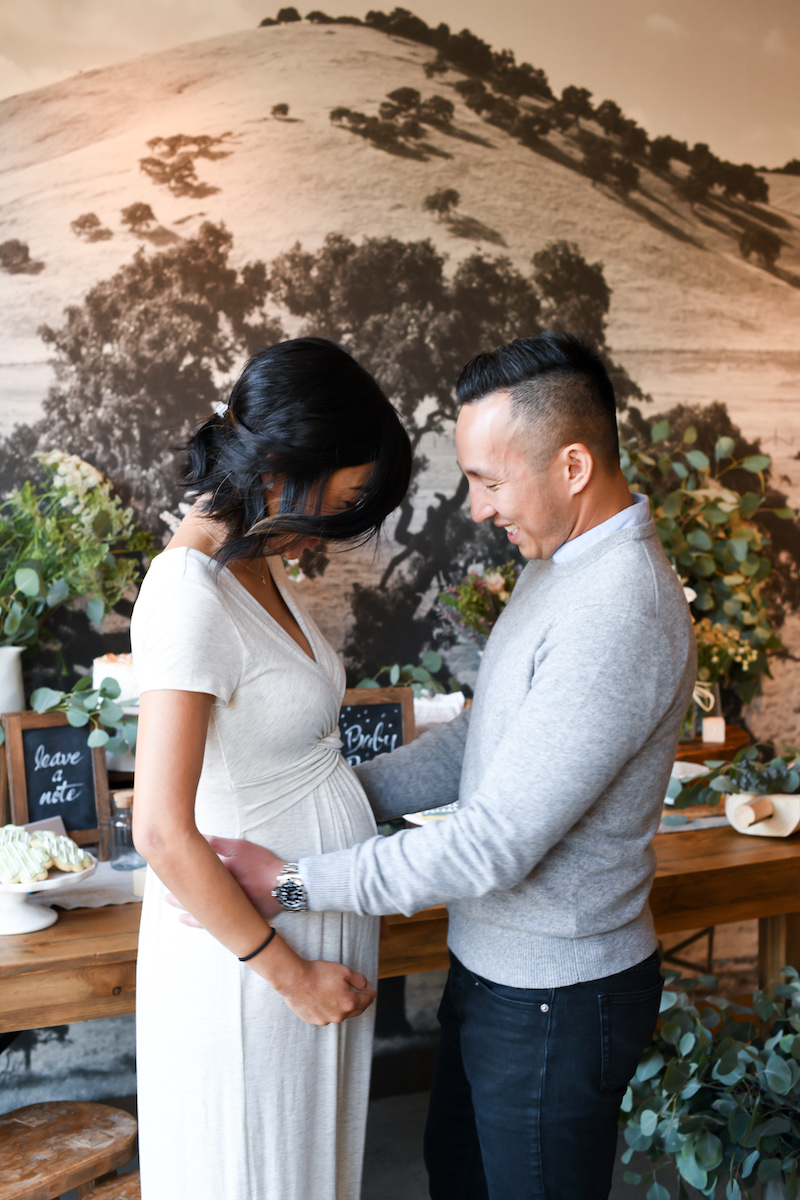 Kristine and Phil – we are so so happy for you and cannot wait to meet your little one!!! Little Bear is one lucky little babe to have you two as parents.
***
Details:
Personalized diapers: Huggies Made by You (Need a shower gift idea? Personalize diapers for the new baby here!)
Location: Farmshop Marin
Custom cookies: Goodies by Jensine
Flowers: DIY, purchased at SF Flower Mart
Assorted Vases: Target and Ikea
Thank you Huggies for partnering with me on this post.
This is a sponsored post by Huggies. All opinions are my own.