NuFACE FIX
August 23, 2019
Sponsored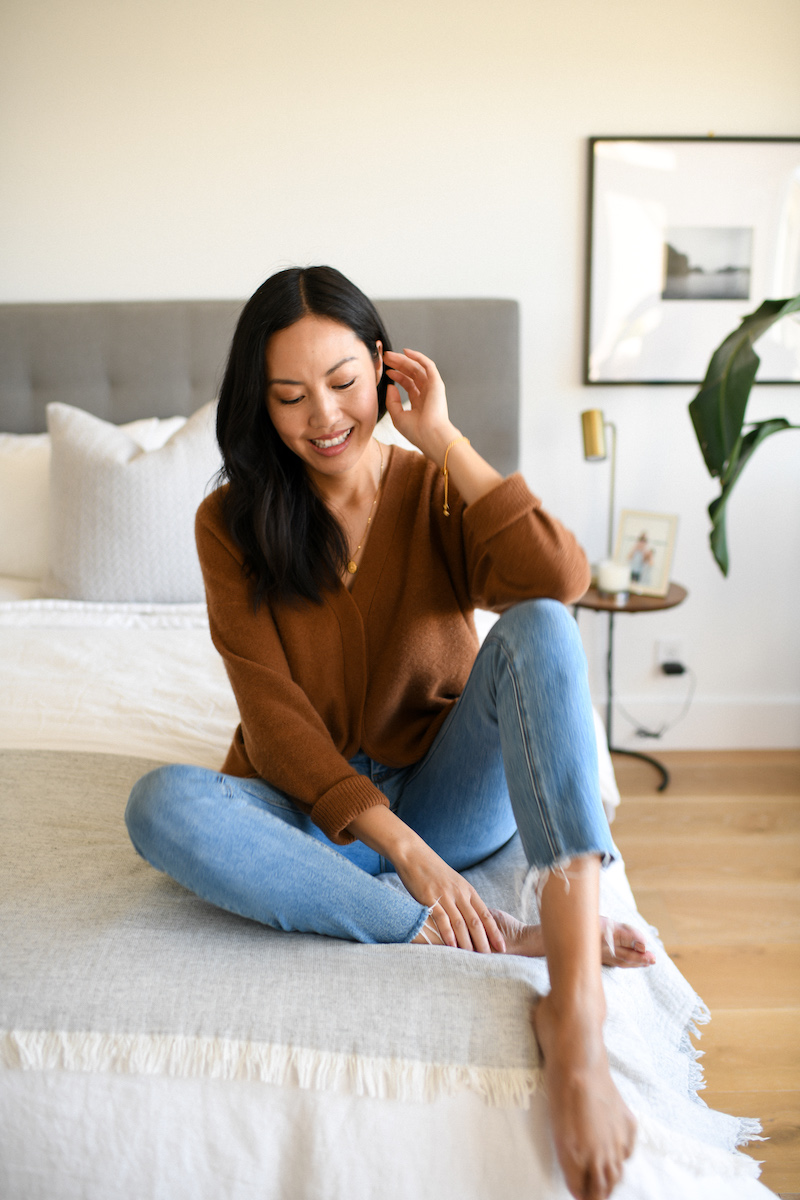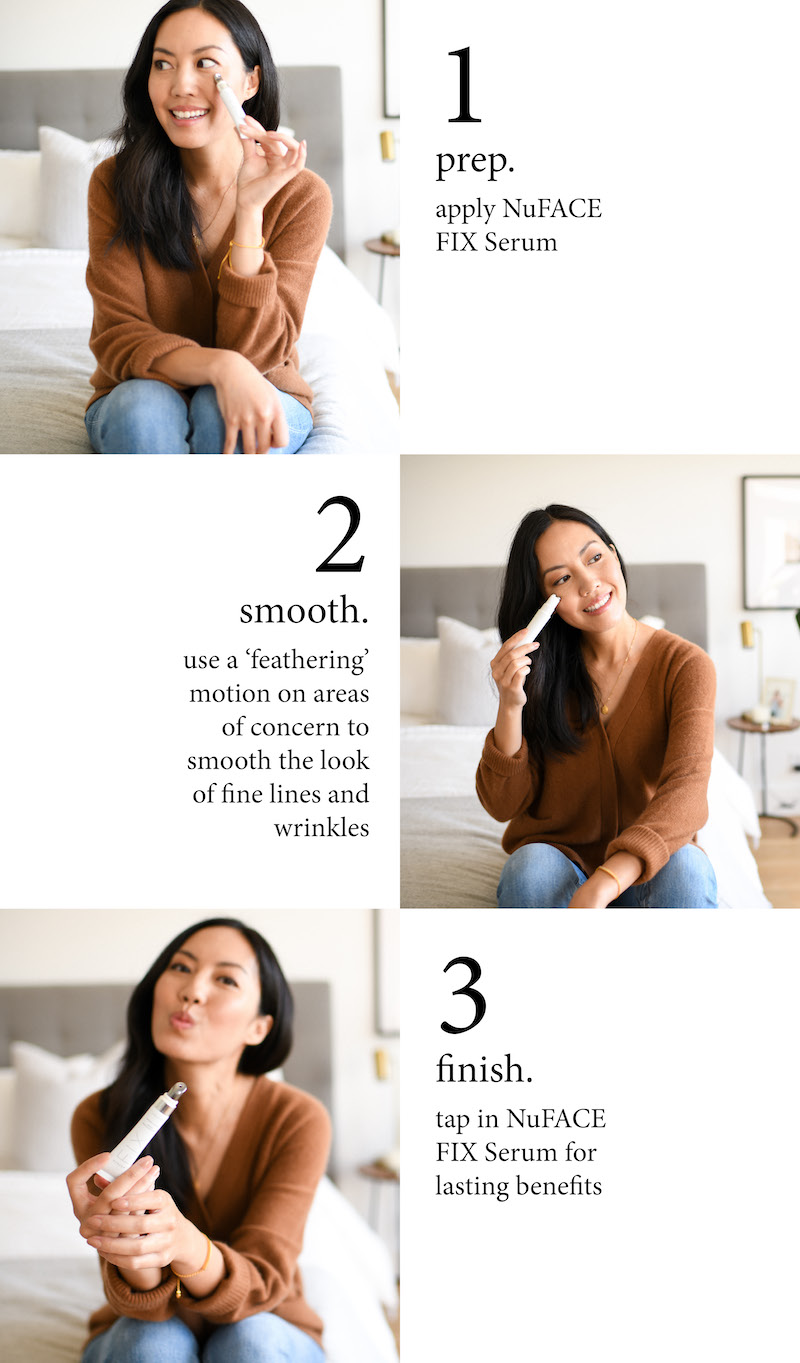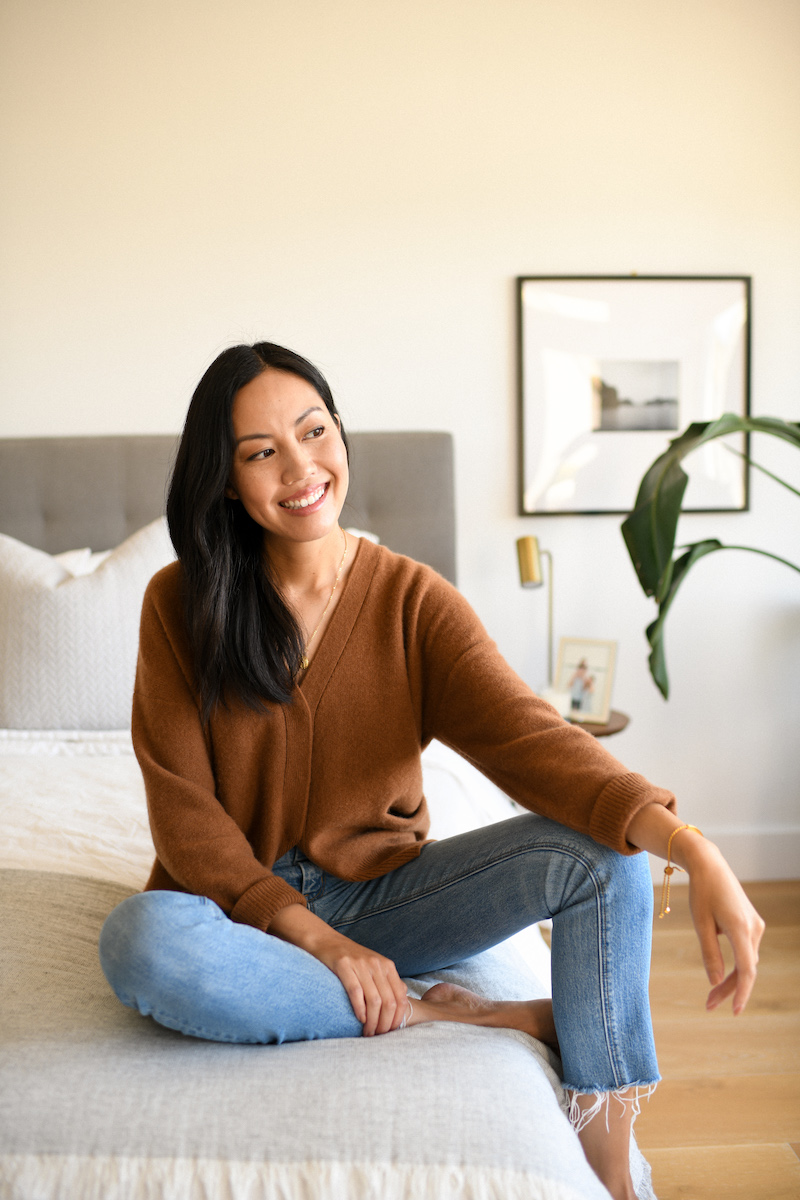 My mom can once again say, "I told you so."
She's been raving about a little facial device for years, claiming that it's the reason her skin is so firm, supple and smooth. And let me tell you: it's true. She has, over the last 5 years or so, been aging in reverse and her at-home self-care regimen is what we would call, "goals."
Like many things she's said to me before (i.e. eat your vegetables, don't sleep in your makeup, take a probiotic, etc. etc.), she was right. Although my mom has this NuFACE Trinity Facial toning device which contours and tones the skin over time, I recently got to try the newest NuFACE FIX, which claims to improve the appearance of fine lines and wrinkles – instantly. That sounds perfect. And I was excited to give it a try.
I've been using it for a little over three weeks now, in the mornings when I can spare 3 minutes. It has been summer, so 3 minutes were, more often than not, easy to find.
(Ask me again in two weeks once Lucia's school is back in full swing!)
Using it is super simple: 3 steps in 3 minutes. First, I tap some of the NuFACE FIX Serum (directly from the tube) onto the areas I want to address (around the eyes, mouth, and forehead). Then I apply light pressure with the NuFACE FIX device and feather it upwards and out. The microcurrent doesn't hurt but you can definitely feel it. To finish, I just tap a little bit more serum and press it in lightly with my fingers. It smooths and tightens the skin. I promise – it really does work! It's like getting an oxygen facial right at home, except it only takes 3 minutes.
My biggest areas of concern are pretty typical: forehead wrinkles, eyes and smile lines. In the before and after photos below, you can see that the texture has improved so much after just a few minutes of targeted use. Plus, when I'm expressive in my face and trying to cause wrinkles, it's hugely less visible after using the NuFACE FIX. What I've loved most over the last 3+ weeks is that there is *clearly* an immediate, visible improvement each time I use it. It's very gratifying – I've found that I want to use it every morning for that reason! Plus it's so small and compact I could take it with me all day and anywhere (especially for trips like my upcoming travel to NY and Paris…tired skin begone!).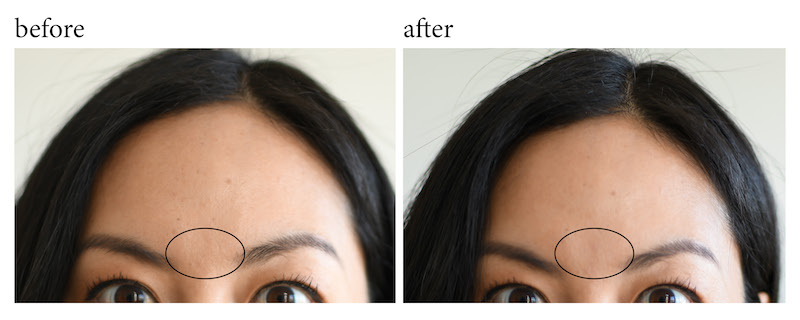 PS: I also had the absolute pleasure of speaking with NuFACE co-founder and CEO, Tera. We bonded over our shared love for San Diego (where the company is headquartered and where their devices are manufactured) and she shared with me the company story (it was founded by Tera, her mom and her sister. Tera and her mom, Carol Cole, are also aestheticians!). Their devices are FDA-cleared, which means they go above and beyond the typical 'beauty tool' in terms of testing and reporting to ensure the devices are safe and effective. They also invest a ton in clinical studies so you can trust the results are real.
Thank you NuFACE for partnering with me! I'm such a fan, I'll be purchasing this NuFACE Mini device myself (as it helps contour and tone over time) to compliment my NuFACE FIX. My mom will be so proud.
Find out more here.