#WFHOOTD
April 13, 2020
Sponsored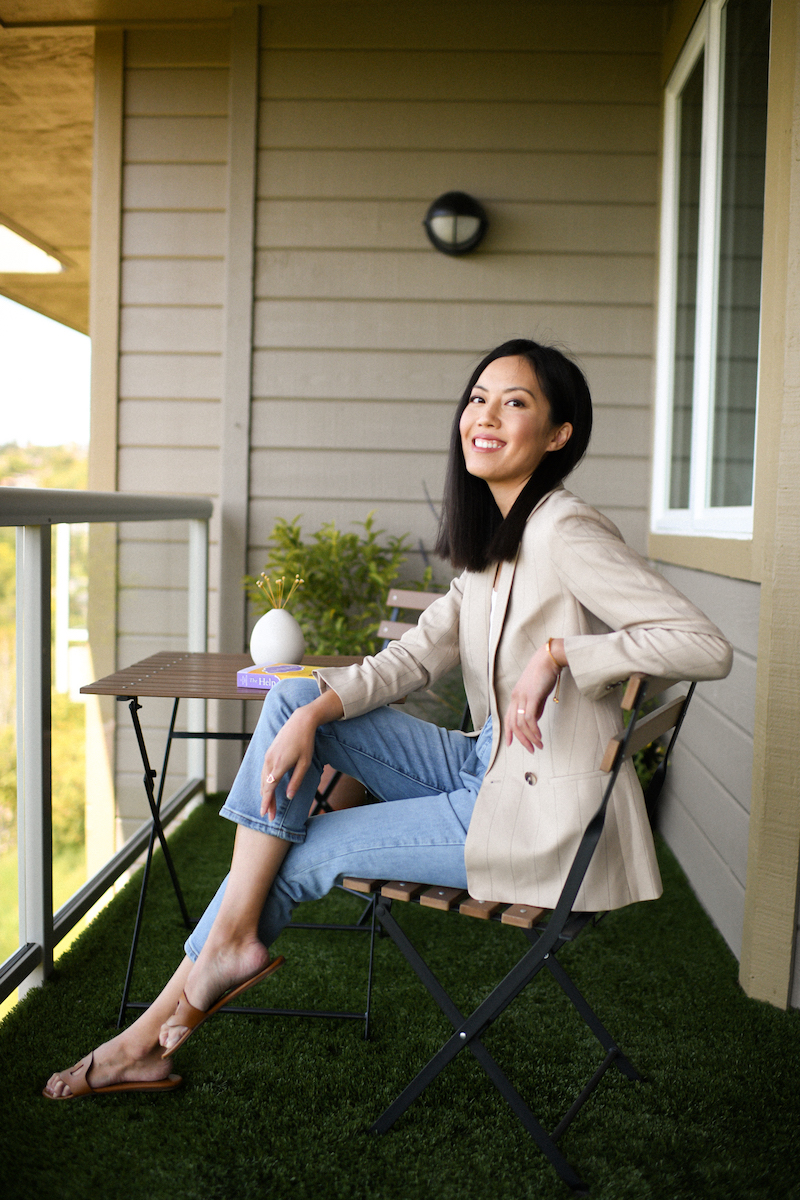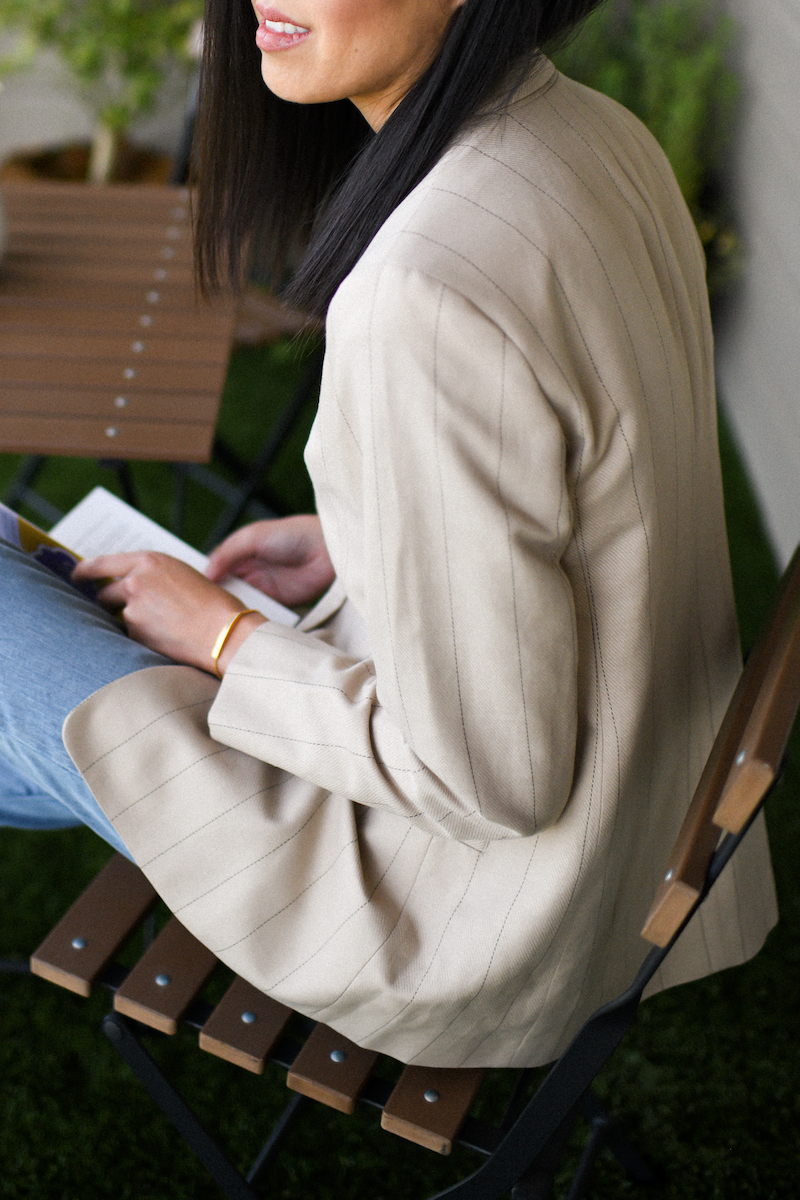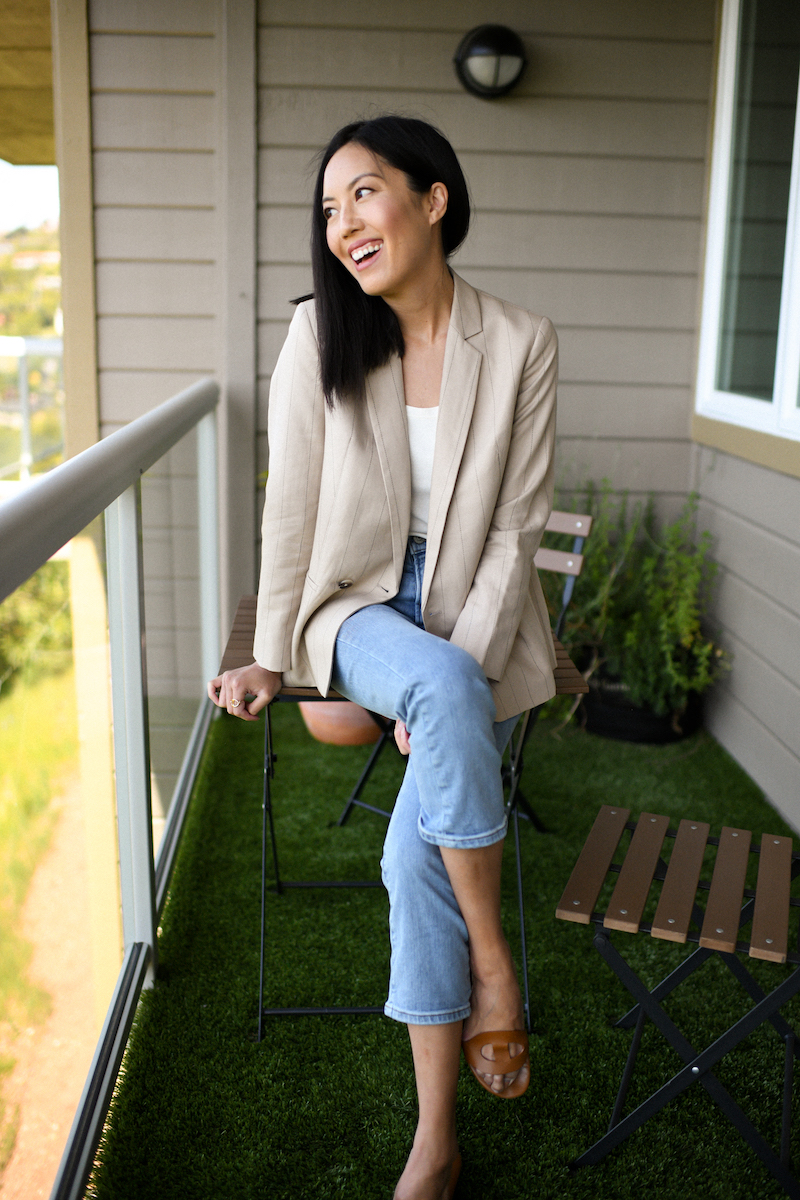 Today I'm sharing a #WFHOOTD with my friends at Express!
Our lower deck is a nice little retreat from the sometimes-harsh sunlight of our upper deck and it's where I have my herb garden and a little kumquat tree (it's lifetime yield so far: one kumquat. HA). The dogs join me and they wrestle in the turf, chasing each other happily.
I've been working mostly from home for the last 6 years and feel pretty good about my established routine. Here are my three tips for working from home:
Get ready. I've been a fan of the 5-minute make-up routine ever since Lucia was born (if you look back at photos from 7+ years ago – my make-up was absolutely heavier and more time-intensive). Don't get me wrong – I love no-makeup days and consider those days to be my "luxury relaxation" days. But for a work day, I can manage 5 minutes to get ready. (PS: that also minimizes any last-minute scrambling when a conference call turns into a zoom with no notice!)
Get dressed. Back to that hypothetical last-minute zoom: you can always just throw a blazer over whatever you're wearing and you'll instantly look more professional. I love this laid-back $83 pinstripe blazer by Express (in my favorite neutral, of course) – it's casual but polished at the same time. The $19 tank top and $48 jeans (yes – they are stretchy!) feel relaxed enough for another day at home, with or without the blazer. But my favorite is definitely the blazer – I've been on the hunt for one like this for a long time!
Move around and take that lunch hour. Take advantage of your entire home and move from space to space through out the day. I do the bulk of my work at my desk, but I'll take breaks throughout the day, or shift to my upper deck or to my lower deck (where I am here), or to my couch or even our kitchen nook. And even if you live in a small space (I lived in 700 square feet for 6 years with my husband and 2 dogs), making a move from the couch to a kitchen stool or dining table was enough to relieve me from the perception of being "chained to my desk." Bonus points if you manage to get a load of laundry into the washing machine on your way to your next "office space!" I try to take a full lunch hour and get in some quiet reading time. And I take frequent breaks through the day. A short break gives me a needed moment of separation – and the motivation to get back to business.
Excited to share some of my favorite finds at Express right now below.
Thank you so much for stopping by and hope you and your loved ones are healthy and safe.
***
Blazer ($83 on sale here)
Tank ($19 on sale here)
Jeans ($48 on sale here)
My current book thanks to many of your recommendations on my IG stories (here)
More of my favorites:


Thank you Express for partnering with me on this post!