Our Living Room
July 31, 2020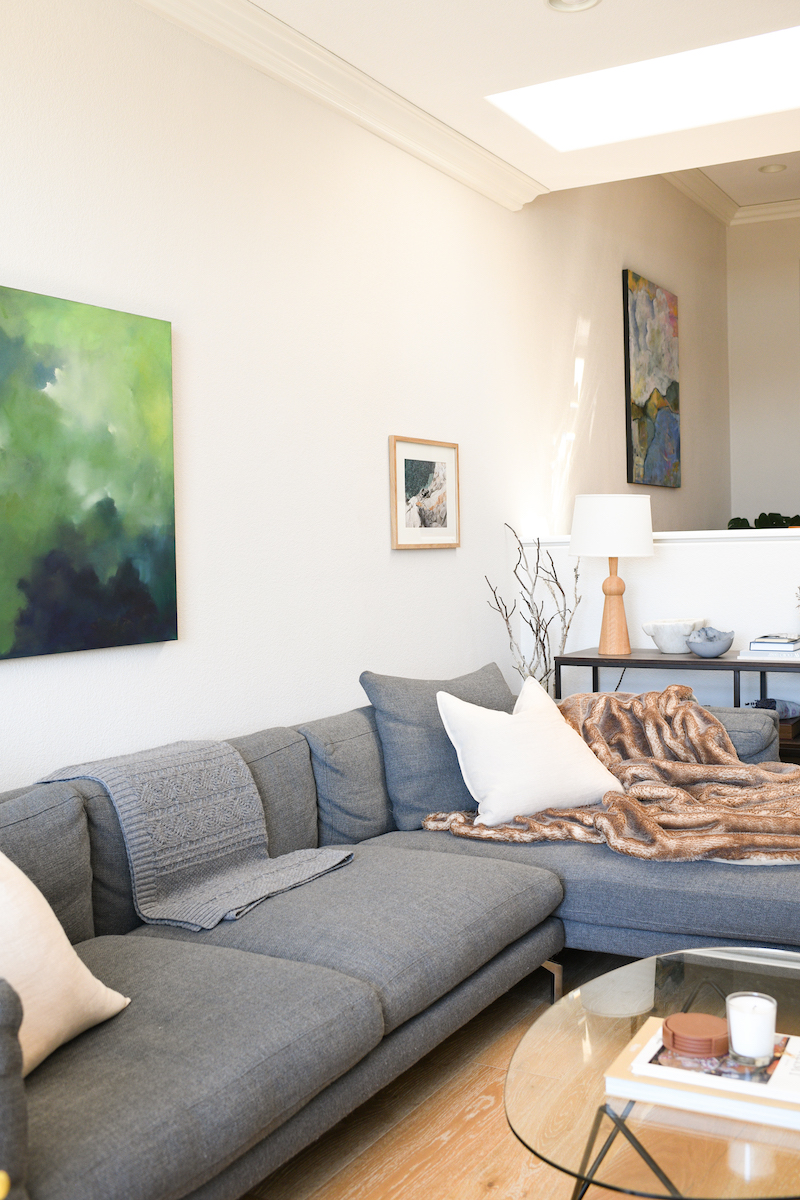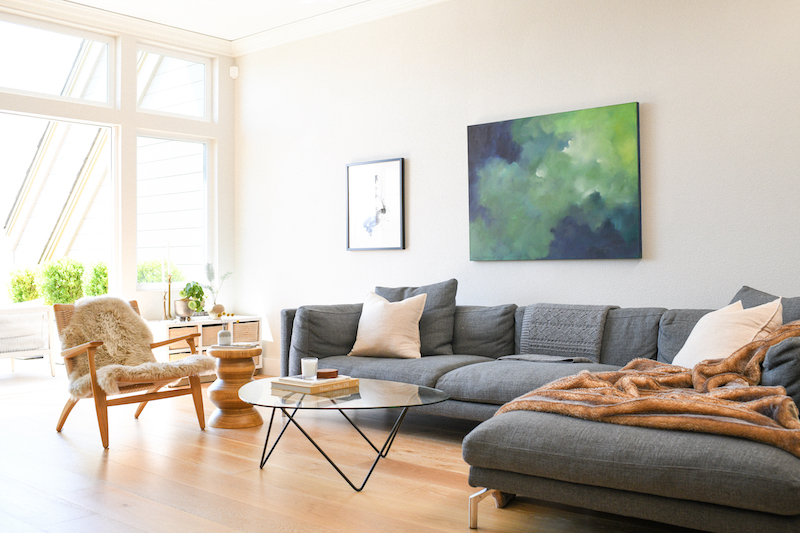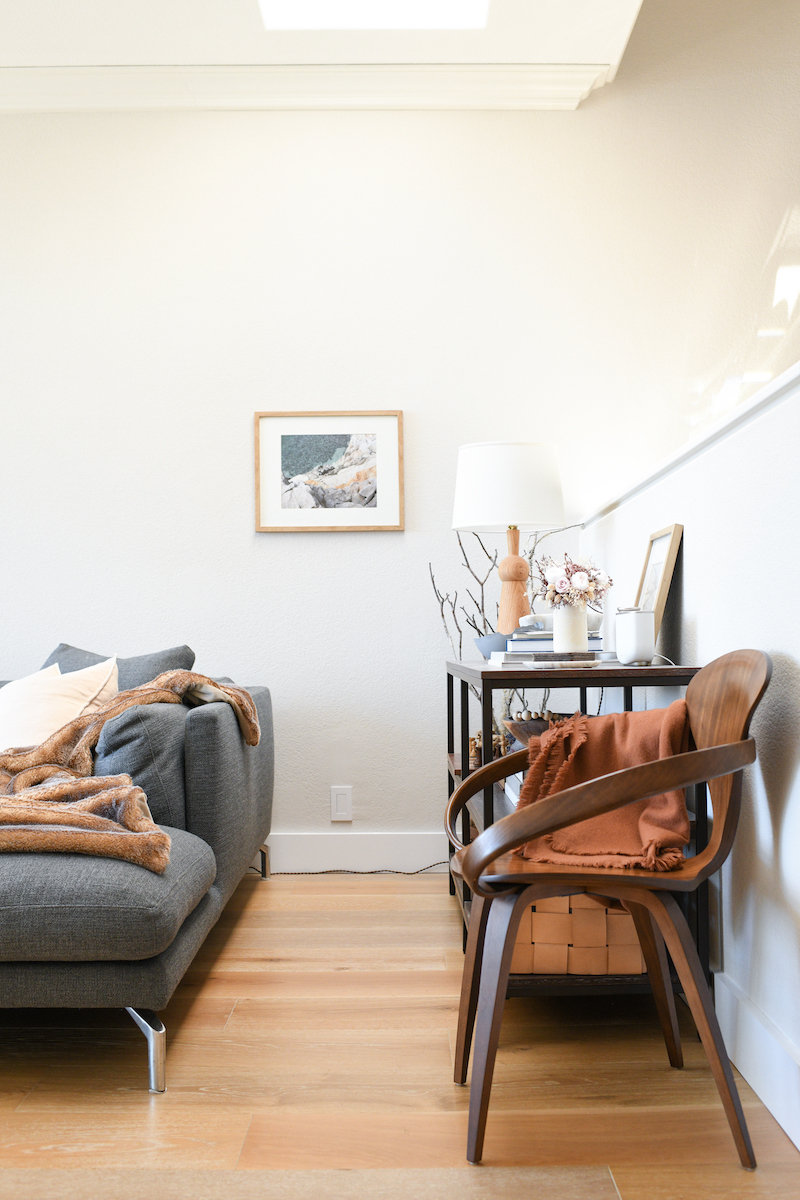 We moved into our house in 2017 – this home update is long overdue! And thank you for your patience – I've gotten so many requests for a home tour over the years but just haven't gotten around to finishing the house (you'll see why below).
Because of my husband's severe dust mite allergy, we immediately changed all the flooring: opting for hardwood floors (wide plank white european oak in cognac here) instead of the existing mix of tile and carpet. We painted the bedrooms but kept the existing off-white paint (freshly done before the house was listed) in all of the living areas. We changed all of the lightbulbs which seemed to be a mix of different cold and warm tones (we opted for all LED warm). And my husband painstakingly used this magic tool to clean up all of the recessed lighting cans and any scuffs on walls that weren't painted – it's a small detail but wow, what a difference it made! We changed the HVAC filter (again, the allergies!) and set a recurring calendar alert for replacing them in the future. We hired an electrician to add dimmable light switches while I went around with a screwdriver replacing the older light switchplates and wall plates to ones without visible screws. And even though the place had been cleaned before we took the keys and after we installed the floors, we scrubbed every inch of the place by hand ourselves. My fingers were swollen for days! It was a labor of love, and by the time we started moving in our belongings, it already felt like "home."
We lived minimally with our existing furniture for a year or so, taking note of how we moved around and used our space. We had just gone from ~1250 square feet of living space to ~2600 square feet (and before that, we lived in ~700 square feet in San Francisco for 8 years!)! Taking that time helped us prioritize what we desired out of our space. Slowly but surely, we made one purchase at a time. Furniture is such a huge investment, we didn't want to add anything unless it was truly something we loved and needed. So here we are, although still a work in progress, 3 years later!
From our living room we have sliding glass doors to our deck (I shared details on our deck here), and adjacent to our living room is our dining room. I hope to share more as we continue finishing our space… but I'm notoriously indecisive when it comes to house-related things, so it has taken (and probably will continue to take) forever!
Thank you for stopping by and hope you have a wonderful weekend.
***
Natural linen accent pillows on couch (here)
Faux fur throw on couch (here)
Cable-knit throw blanket on couch (here)
Couch (here – PS: when shopping DWR, we have found success with their Outlets and their eBay store!)
Walnut armchair (here)
Oak lounge chair (here)
Taupe-colored sheepskin on lounge chair (I love this color! It looks so luxe. here)
Oak round side table (bought it at Arden Home in Hayes Valley SF, similar styles here and here)
Storage table by window (we keep our sandals here for the deck – it helped reduce the clutter around the sliding glass door! here)
Baskets in storage table (here)
Brass candlesticks (here)
Brass planter (here)
Coffee table (here)
Console table (here)
Braided tall basket (here)
Leather woven baskets in console table (here)
Lamp (here)
Scent diffuser (here)
Vintage marble vessel (found it at this store in Sebastapol)
Raw cement bowl (here)
Artwork (oil paintings and framed charcoal by Dmitri here; oak frame here and picture is just an iPhone shot taken while we were in Cassis with my aunt)
My favorite neutral coffee table books both for what's inside and outside on the cover! (here, here and here)